Towngate Publications - Fine Art Printing
We are a specialist in fine art and photographic printing, for artists, galleries and framers.
We provide high quality giclee printing services ranging from limited edition prints, fine art reproductions, photographic and graphic printing. Whilst providing mounting and framing solutions with our in house award winning picture framing, all on site. We can also provide limited edition certificates to work alongside limited edition print runs.
Orders can be placed via phone, email or simply pop in, we are always happy for people to pop in to our workshop. If we are printing from a file provided by yourself we will always check the file to ensure that print quality remains high. If we have any concerns regarding the provided file we will contact you and talk though any concerns. We will also discuss any recommendations regarding print media or mounting or framing solutions depending on your requirements. Our full colour managed print studio will enable the maximum quality from the file from detail through to colour rendering and tonal ranges creating stunning images that will last resulting in a professional giclee print.
As a Hahnemuehle Certified Print Studio we are inspected annually to ensure that all the standards are met. This should give you confidence that print quality never drops. Hahnemuehles certified studios are checked for colour management process through to how the print media is stored, ensuring that at no stage any damage can occur whether it be to the print media or the digital version of the image through bad colour management practices.
Also being both a member of The Fine Art Trade Guild and being a Guild Certified Printer we have prints tested yearly to ensure that the quality of print remains consistently high. The testing is carried out my an independent testing laboratory, This ensures that any artwork reproduced is at the highest standards and eliminates any concerns over colour performance and longevity.
If your artwork requires strong vivid colours, smooth gradients, soft natural tones or deep rich black and whites using the latest in fine art or heavy weight fibre photographic papers. Our studio is prepped and ready to produce your artwork in the highest detail and with reliable and reproducible colour. By working with our customers we are able to advise on the best media to achieve the best results using high quality materials that will last throughout the years.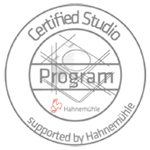 Hahnemuehle Certified Studio:
Towngate Publications is proud to be an accredited Certified Print Studio by Hahnemuehle FineArt.
With over a decade of experiance in print making with Giclee print methods and with many more years supporting artists with publishing advice and though our own gallery. We have put into place safe guards for image data and strong colour managment process. After flying though the audit for Hahnem??hle's Certified Print Studio, we are proud to be working with Hahnem??hle and the stunning digitial papers that they provide.
Many artists seeking high quality reproductions of their artwork look for a Certified Studio due to the reliability and consistant quality in print reproductions associated with the Certification. The Certification also assures the longevity of prints by ensuring high quality archival products are used at all times.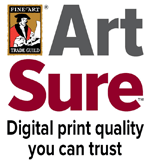 Art Sure
Art Sure has been setup as an independent quality assurance scheme for digital prints. The scheme has been designed to be the modern face of the traditional embossed stamp that was found on previous prints to symbolise quality back in 1847.
Since the introduction of digital inkjet printing making fine art print more accessible for artists it has become far easier for people to pay for a print service that can result in poor print quality, longevity and colour issues caused by inexperienced or improperly setup print rooms. These prints can often fade far sooner than expected, this is where an ArtSure accredited print studio comes in. ArtSure signifies a print studio that uses certified, tried and test print materials and equipment.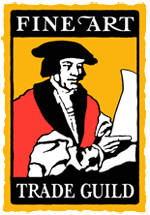 Fine Art Trade Guild
The Fine Art Trade Guild is the leading governing body for the fine art industry as an Accredited Printer and long term member we believe very strongly in the values held by the Fine Art Trade Guild.
An accredited member we conform to the Guild Standards for Giclee Prints and can use the Guilds logo. The standards set for print publishing are in place to protect the interests of the public and maintain confidence in the publishing of fine art.
Towngate Publications can provide certificates of authenticity, these certificates are printed on archival paper and can be signed by the print maker and provide an area for both artist signature, limited edition number and print title along with media used.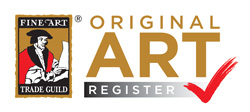 Original Art Register
Benefits for Artists
Protection against Copyright and Intellectual Property theft.
Certificate of Registration that can be used in a court of law to back up a breach of copyright claim or breach of intellectual property claim.
Certificate to give, to customers, when buying the original as proof of originality.
Exclusive identification number and logo for use as deterrent when promoting image on the internet or in any printed publication. This ensures both the public and trade are aware of your rights of ownership.
Promotion of original artwork and prints (if produced) across the Globe.
Show listings of prints and product for clients to see the use of original.
Show Licensees if an image is available for licensing for products.